Is it possible to combine a blissful life ... with work?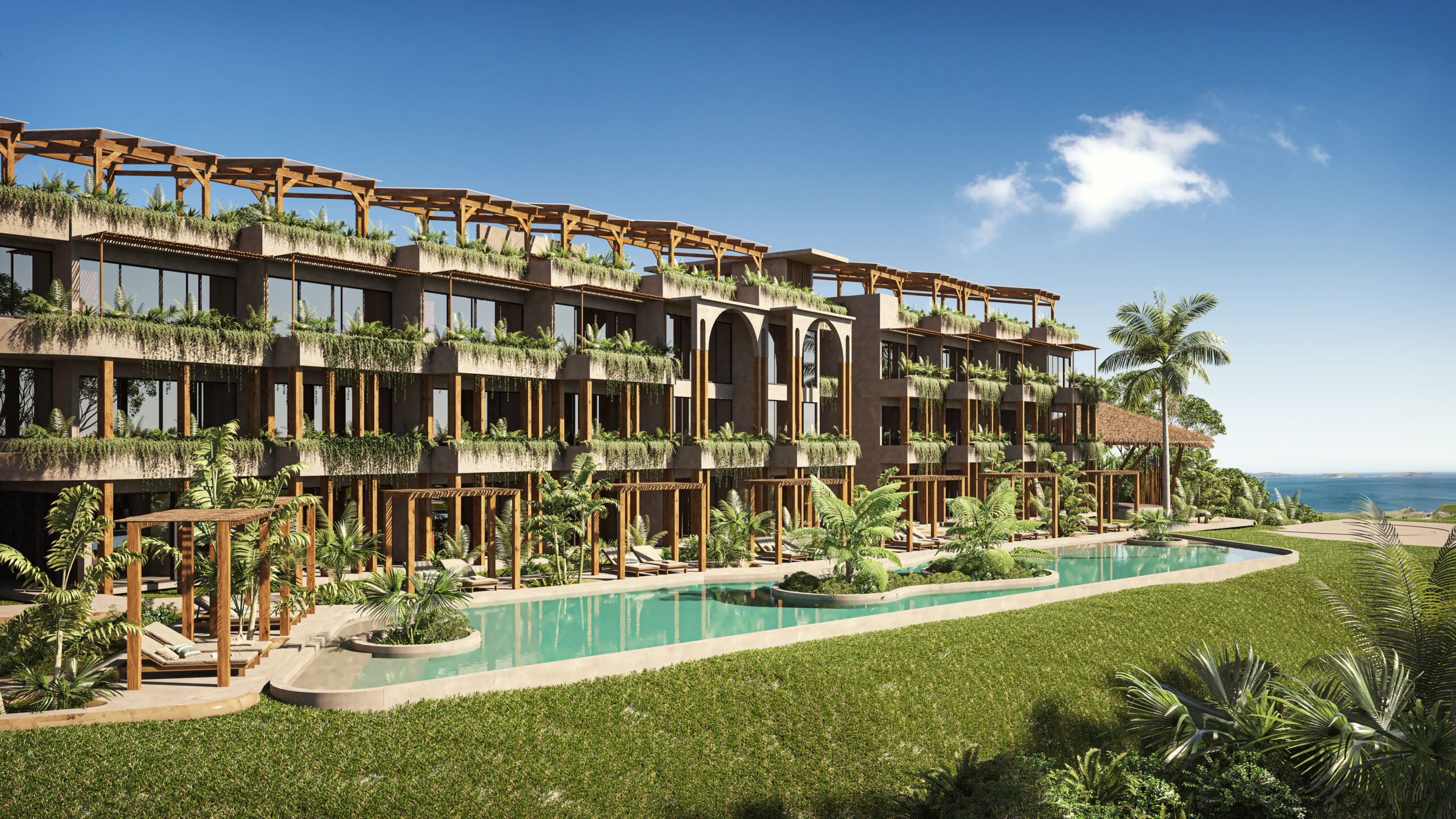 Would you like to find a place to work with a million-dollar view, immersed in nature and far from the rush of big cities, yet with an ultra-fast connection with the world? Wouldn't it feel amazing to start a day with a workout at your own gym, a yoga class or a swim in the pool… or maybe a swim in the sea with dolphins or whales?
Recharge your batteries, re-immerse and rediscover yourself. Surround yourself with people who love life. Feel at ease by living on your terms. This investment is for people who want to invest in themselves and their future, for those who want to live blissfully.
Discover Samana Nomad City
Nomad City is a residential and co-working complex, beautifully situated on the Samana Peninsula in the Caribbean Dominican Republic. These are not only apartments but also recreational, common, and commercial spaces (bars, gyms, yoga studios).
An investment in Samana Nomad City allows you to live and work in a tropical paradise for at least a part of the year – and to rent an apartment commercially during the remaining months.

You do not want to buy an apartment? You don't have to! Invest in the Samana Nomad City development project and enjoy profits from the sale and managment of the whole property!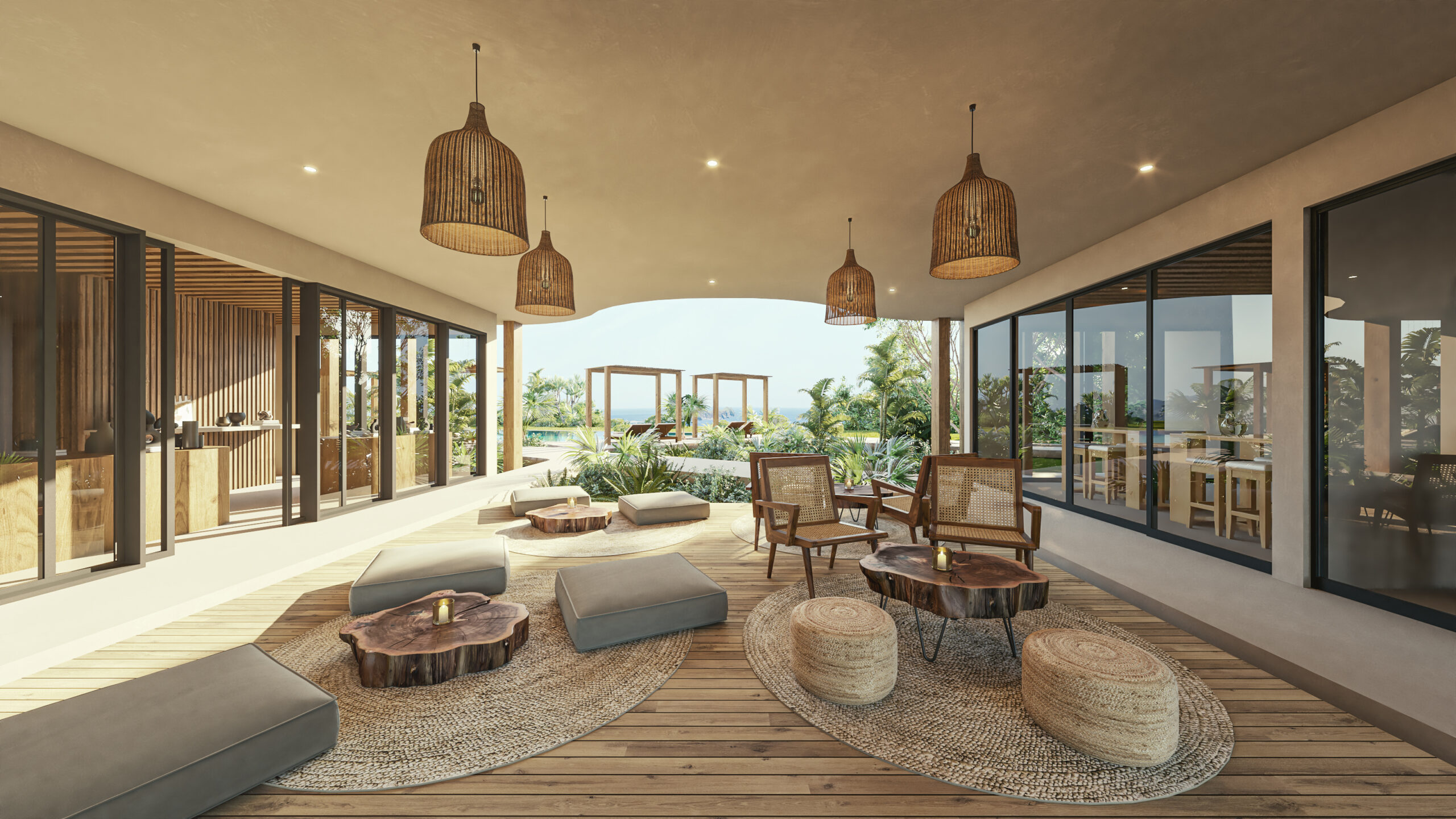 coworking space

40m2 or 60m2 apartments and an 80m2 loft

ground floor, 2 floors and a roof terrace

terrace cafe/bar, pool bar, shop

24h reception, security, cleaning and laundry services

fiber optic WiFi internet

common spaces to rest

swimming pool, gym, yoga studio, tennis court and basketball court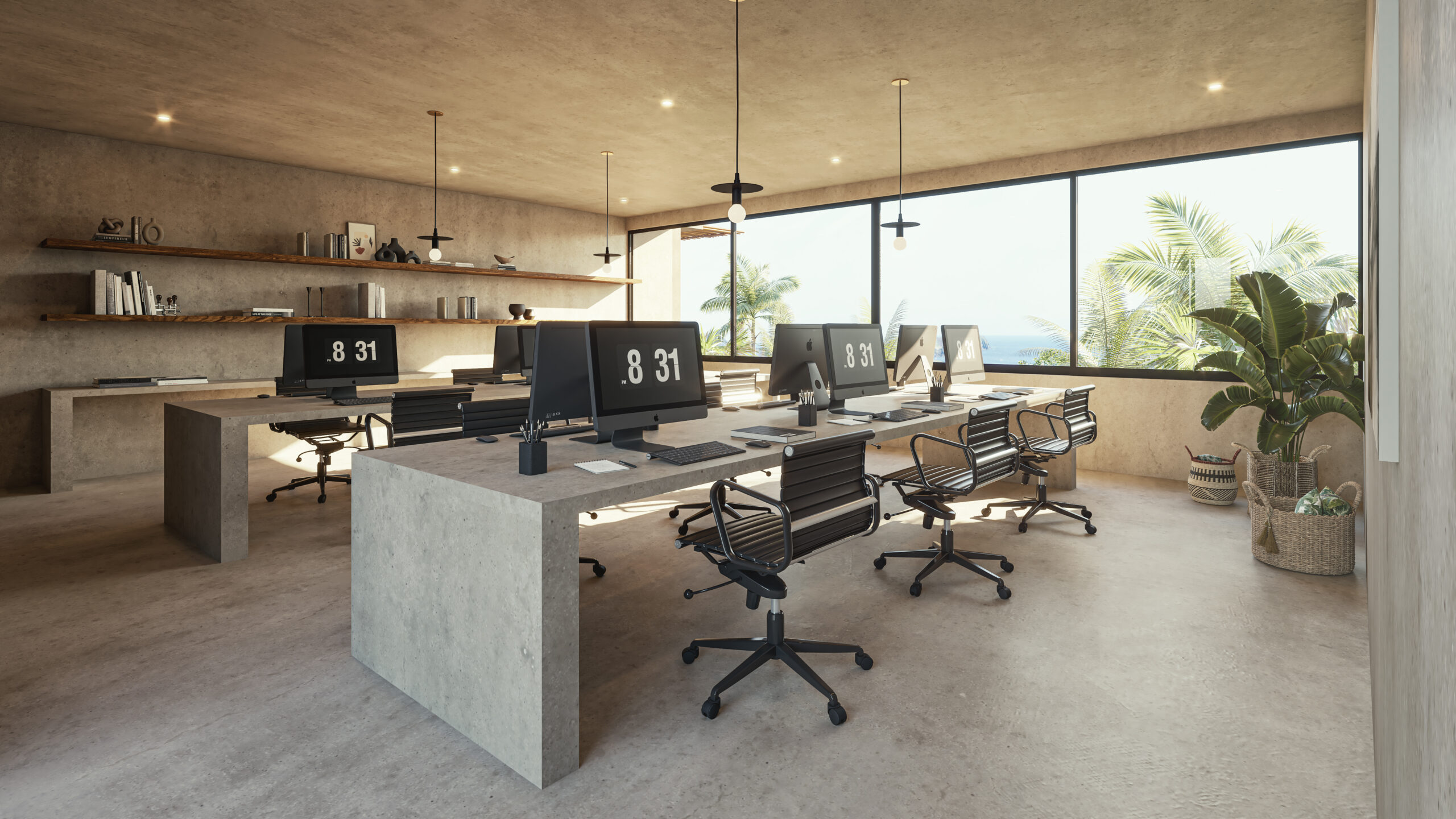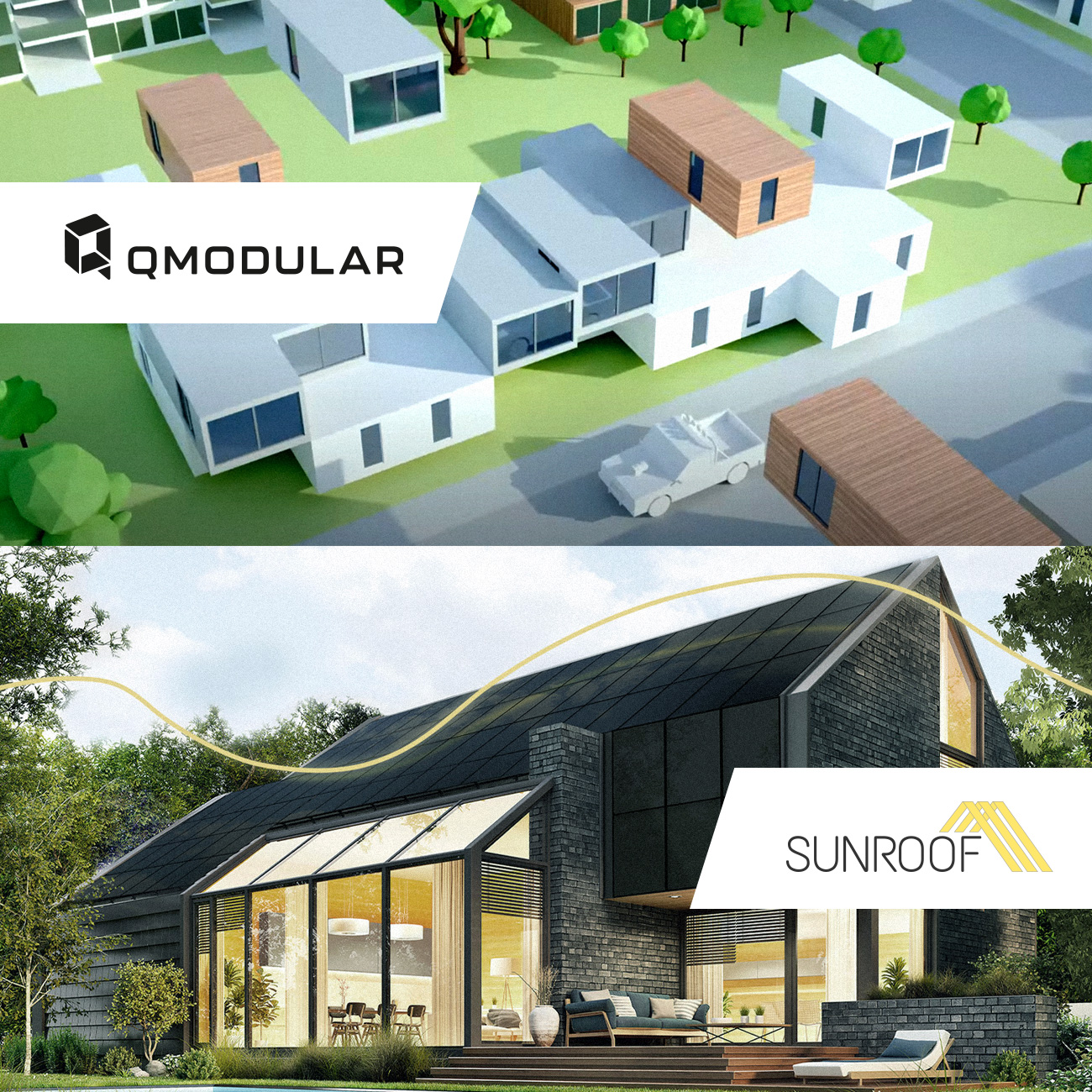 The breakthrough Qmodular and SunRoof technology
Samana Nomad City will be built with the use of new-age technologies. In order to achieve maximum quality and durability, while reducing the total construction time by almost half, we have partnered with Qmodular – a company experienced in creating prefabricated modular buildings. Thanks to Qmodular, the building will be much more fracture-resistant and adapted to seismic waves than traditional homes. The independent modular structures connected to each other act as safety capsules in the event of seismic waves. All steel elements are increased in thickness and painted with paints used in the hulls of ships. In order to guarantee protection in the event of solid rains or winds, window joints are subjected to similar tests as ships.
Additionally, thanks to SunRoof solar roofs and facades, Samana Nomad City will be independent of the electricity grid, and energy bills will be reduced by as much as 70%.
Finished apartments can be viewed both in the Dominican Republic and in Cracow. The finished apartment with furniture and equipment will be available for viewing in the Samana Group showroom on the highway near Cracow.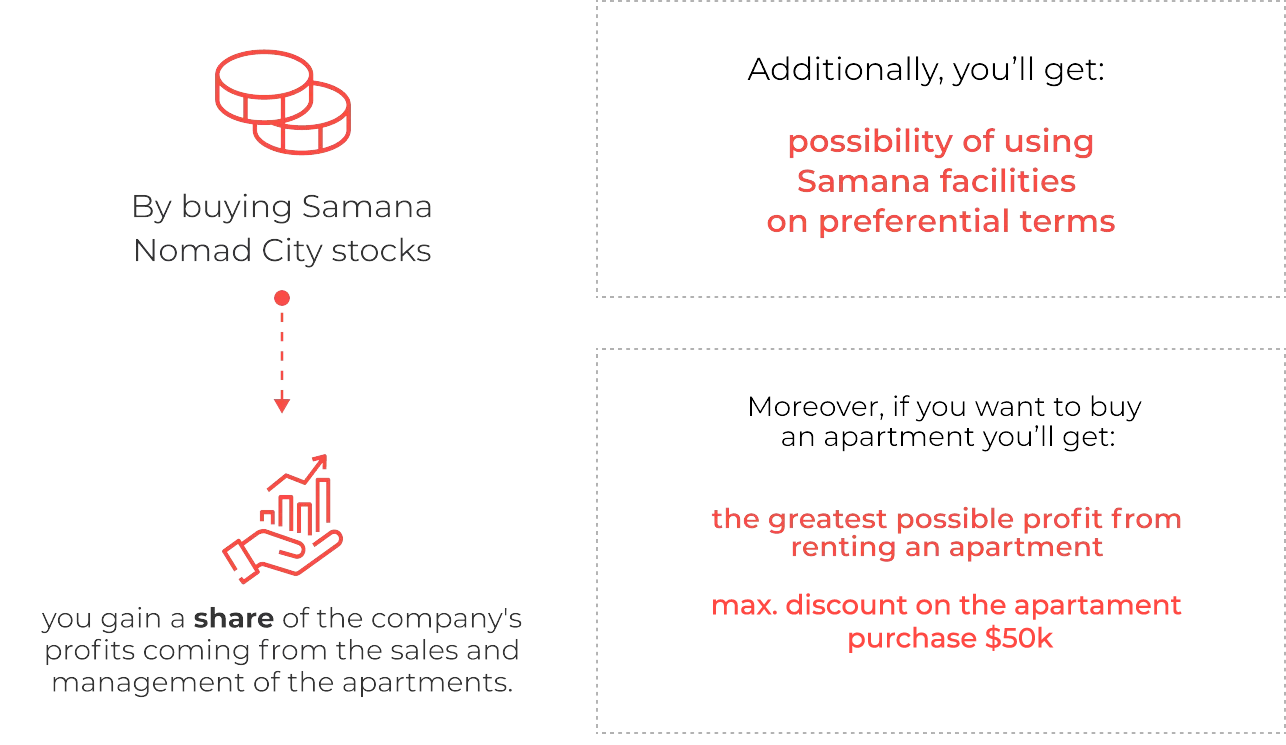 By investing in Samana Nomad City, you participate in the company's potential profits from all sources of income:

Looking for an apartment with a view?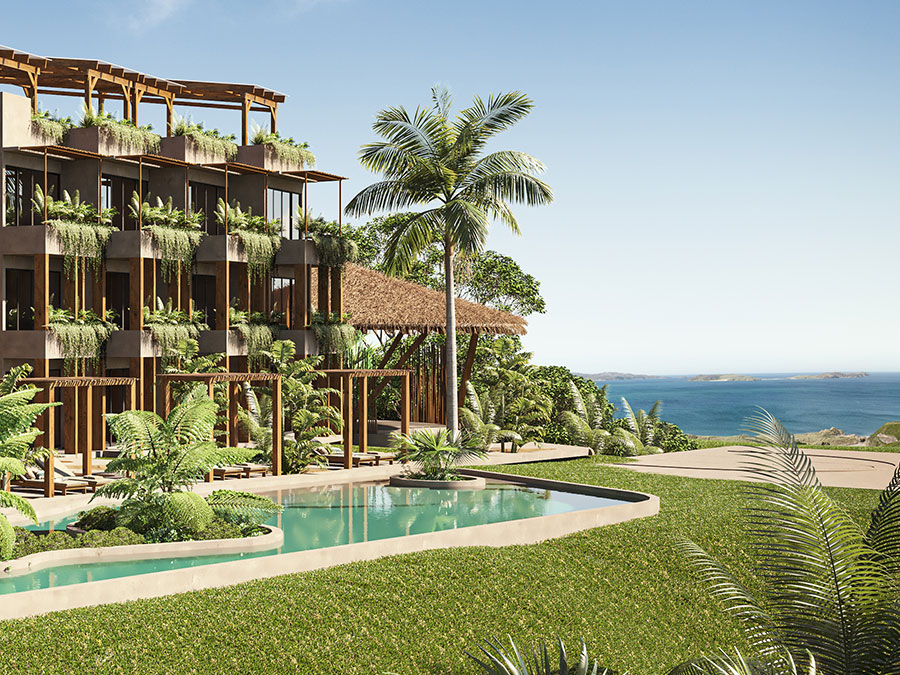 As a shareholder, you can buy an apartment with a discount of 100% of the investment in shares - even up to the full price of the apartment!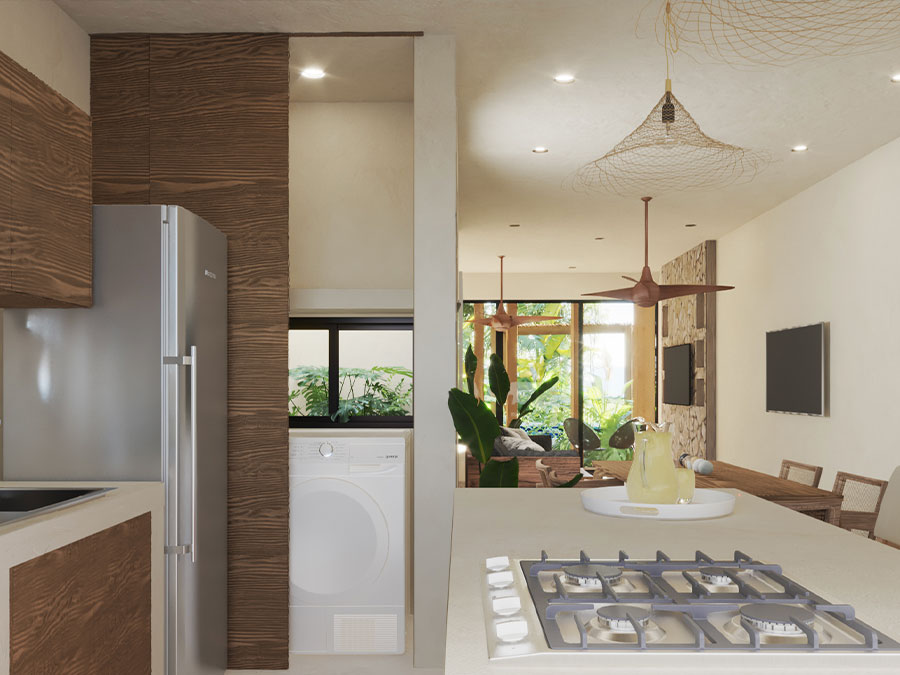 As a shareholder and the owner of the apartment, you benefit from lower rental service costs.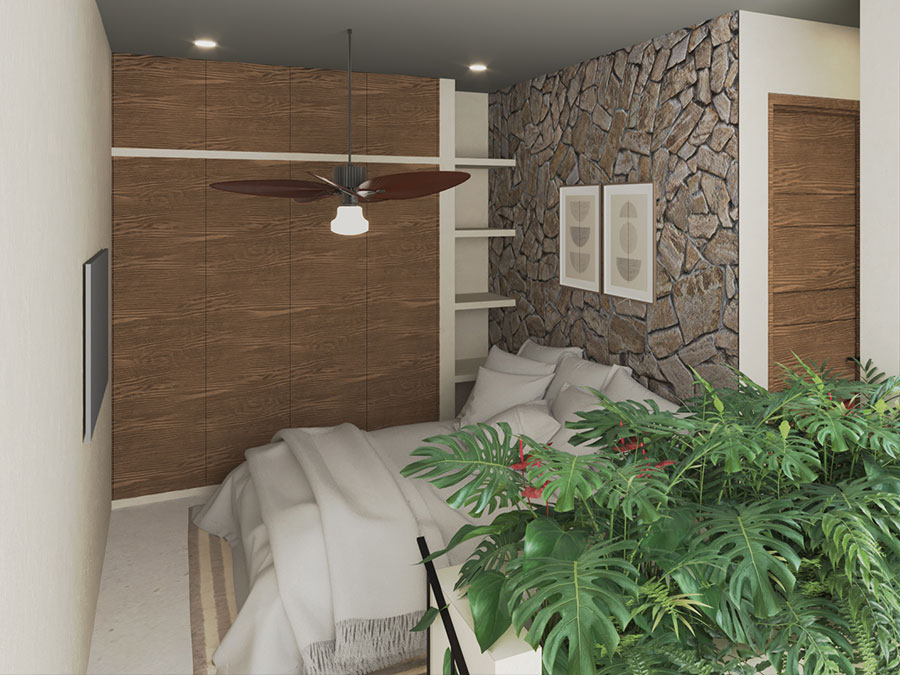 You do not have to deal with booking or keeping the apartment clean - this is our job.
Travel around in a smart way
Becoming the resident of Samana Nomad City means you can co-share the electric vehicles. Using a dedicated app you can book electric scooters and motorcycles from Cake or a Rivian truck. Thank so this, getting around the peninsula will be more convenient, ecological and smarter.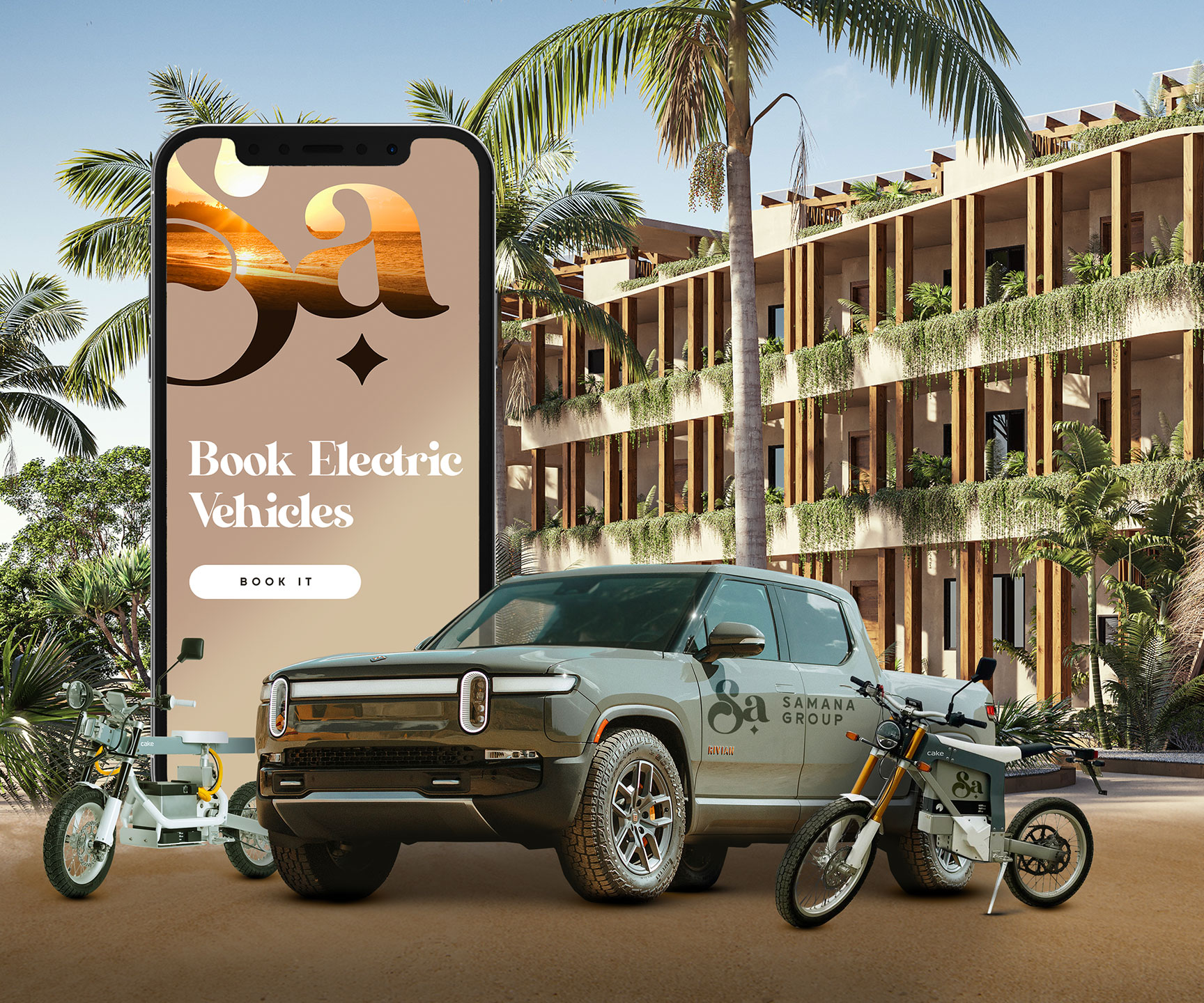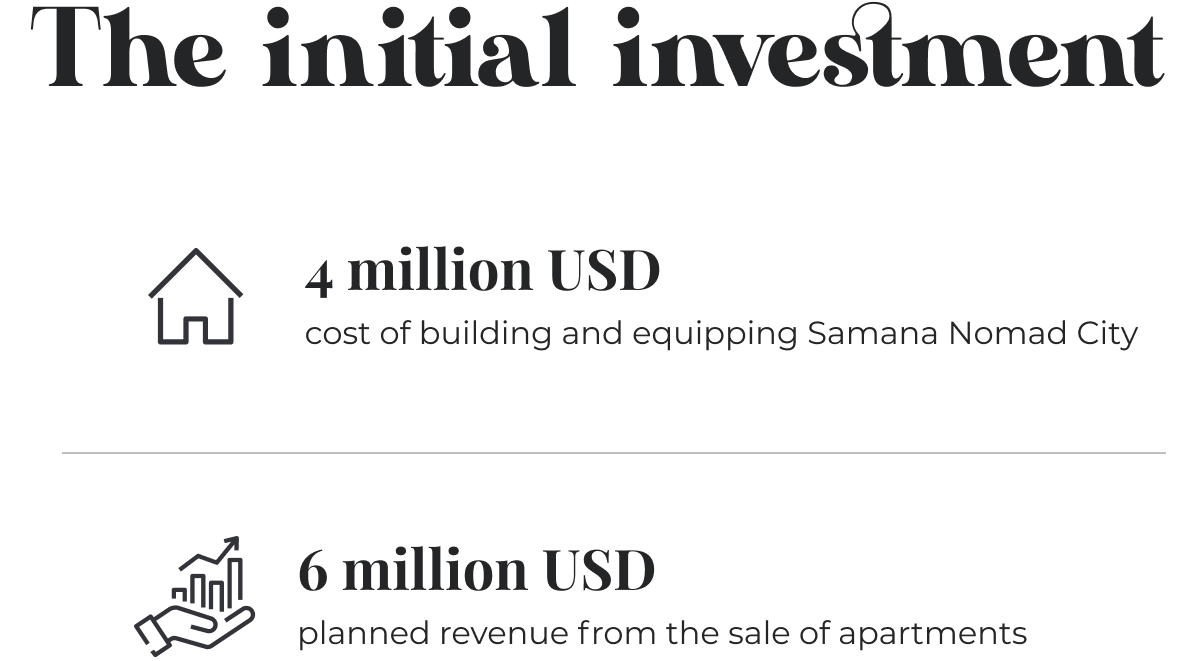 The company will invest 4 million USD in Samana Nomad City, of which up to 1 million will come from the issue of shares in the investment crowdfunding model.
The apartments will be sold to shareholders and third parties. The planned revenue on this account is over 6 milion USD. The company plans to pay all of the forecasted profit from the sale of apartments in the form of dividends.
In the following years, the company plans to generate revenues from servicing the rental of apartments as well as the rental and servicing of the commercial part.

The Samana Group is one of the largest developers and landowners in the Dominican Samana Peninsula
The company manages over 4,000 ha (40 square km, 10,000 acres) of land, building there residential estates of luxury villas, hotels, hostels and apartments.
The founders and partners of the Samana Group have been developing the project for more than 15 years, collecting land, creating interior plans, and obtaining building permits.
The founders of the Samana Group, as a proof of concept, have already built and opened 6 boutique hotels and a complex of apartments in the region.
Hacienda Cocuyo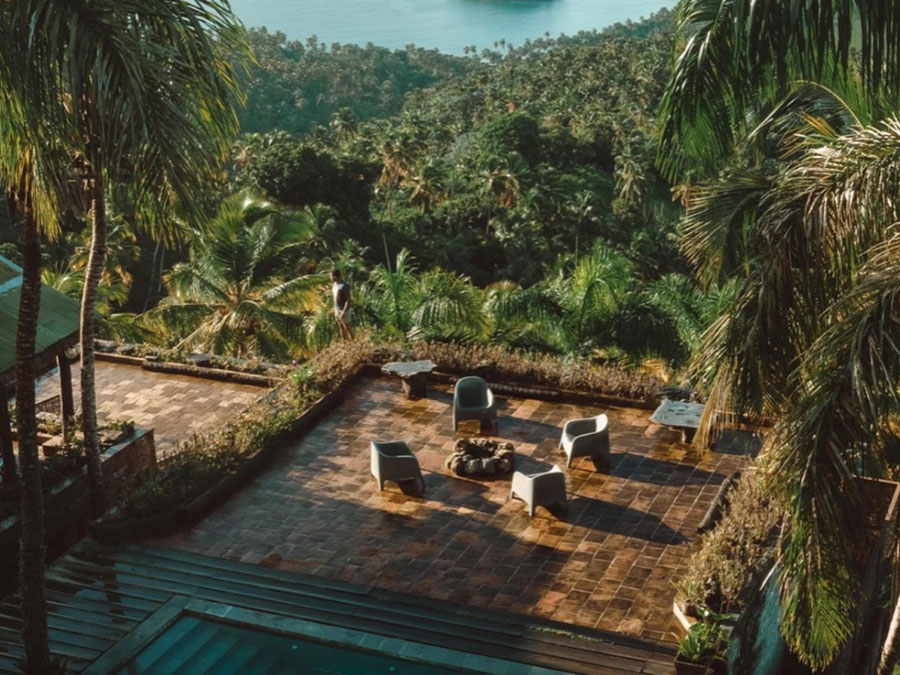 Ganesh Hostel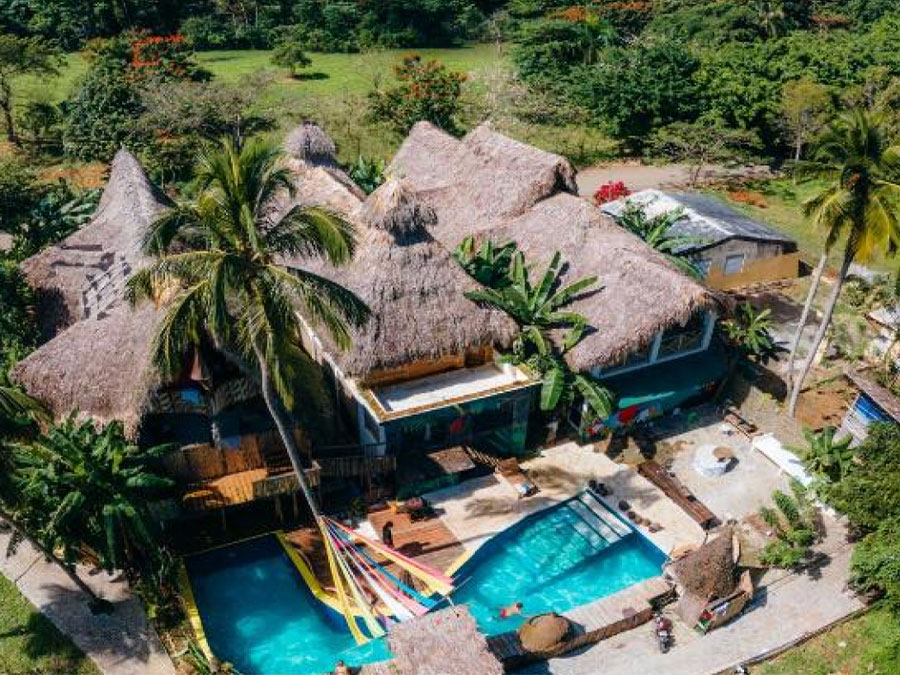 El Valle Lodge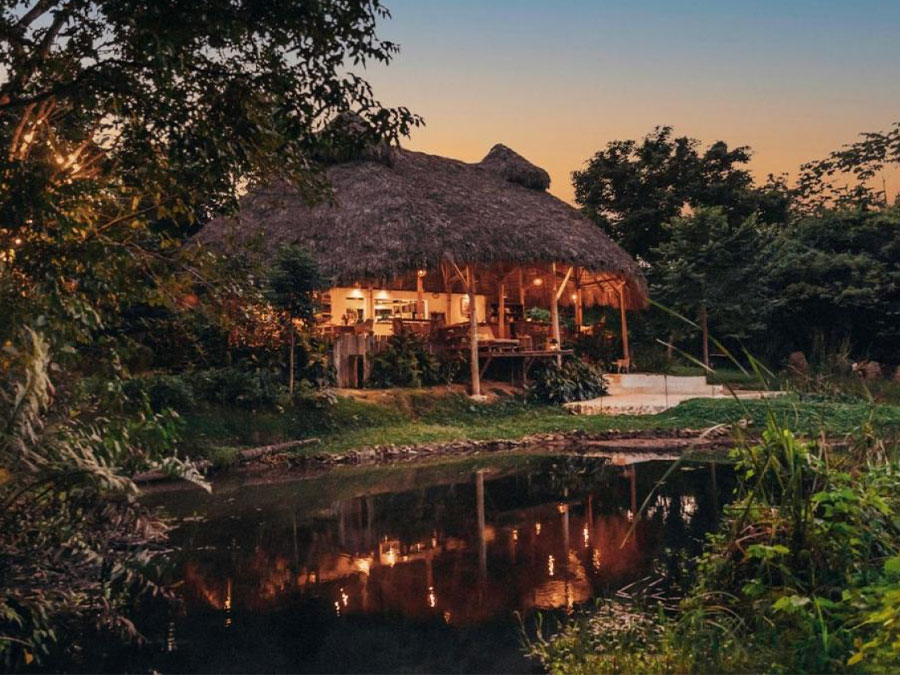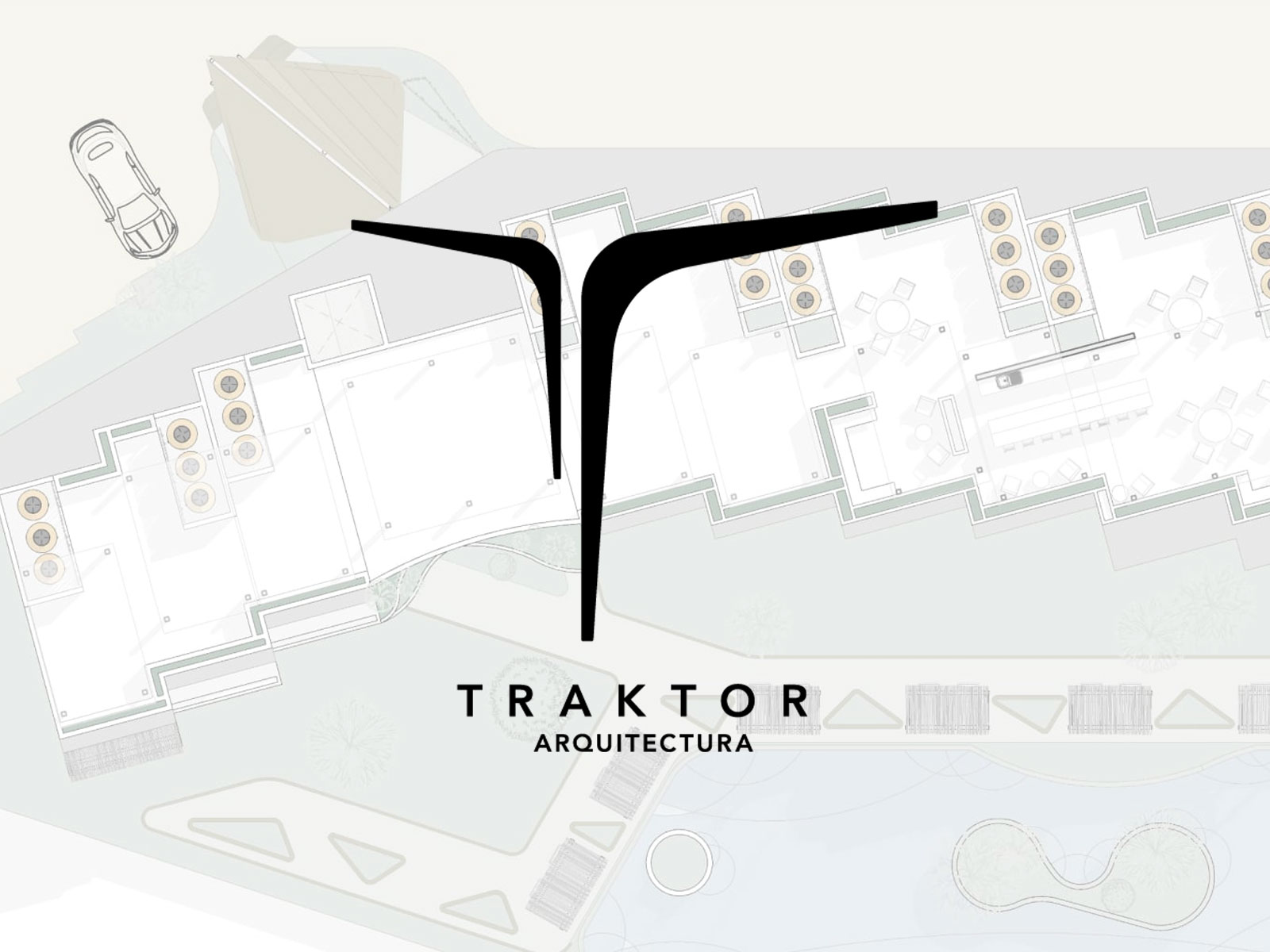 Architectural Project
Traktor Arquitectura, the architecture studio responsible for the Samana Nomad City, has been shaping the landscape of popular destinations in the Dominican Republic and Mexico since 2014. Their numerous projects, including luxury hotels, villas and residences, commercial spaces and meeting places were implemented in Tulum, Cancun, Puerto Aventuras, Holbox Island and El Valle. The standard of quality that these talented architects follow is characterized by no compromise in terms of environmental protection, the use of locally sourced materials and the courage to go beyond the patterns.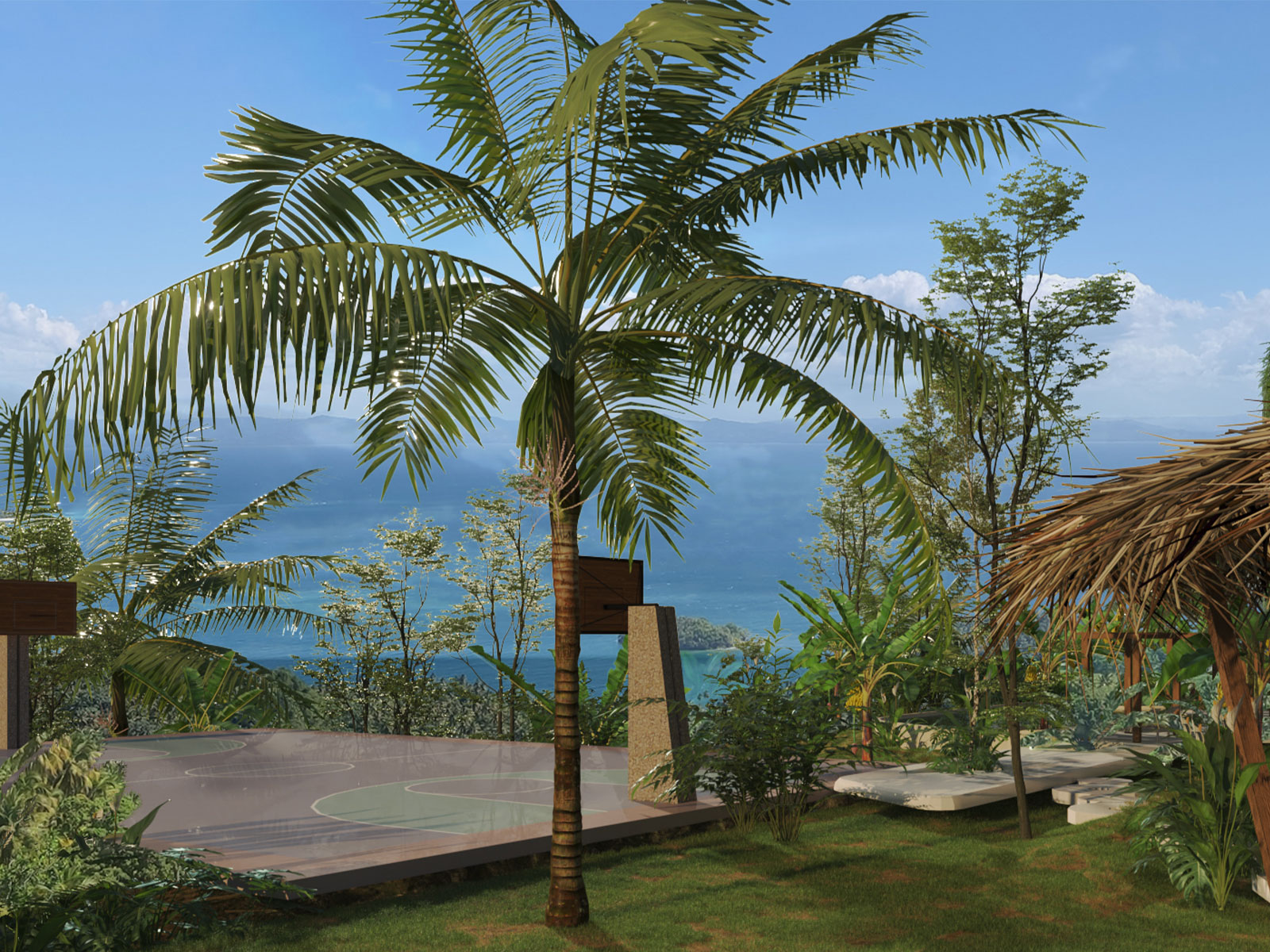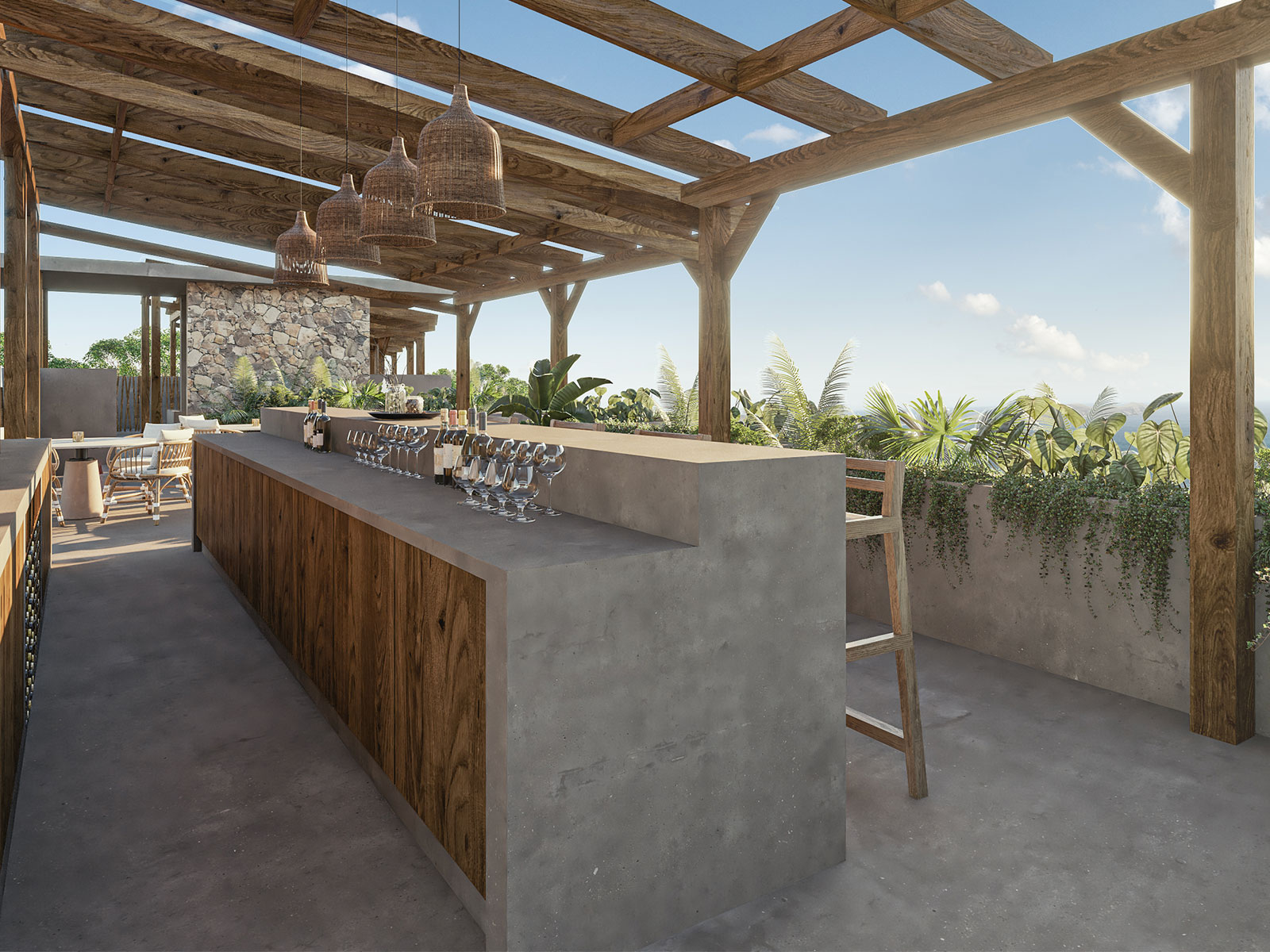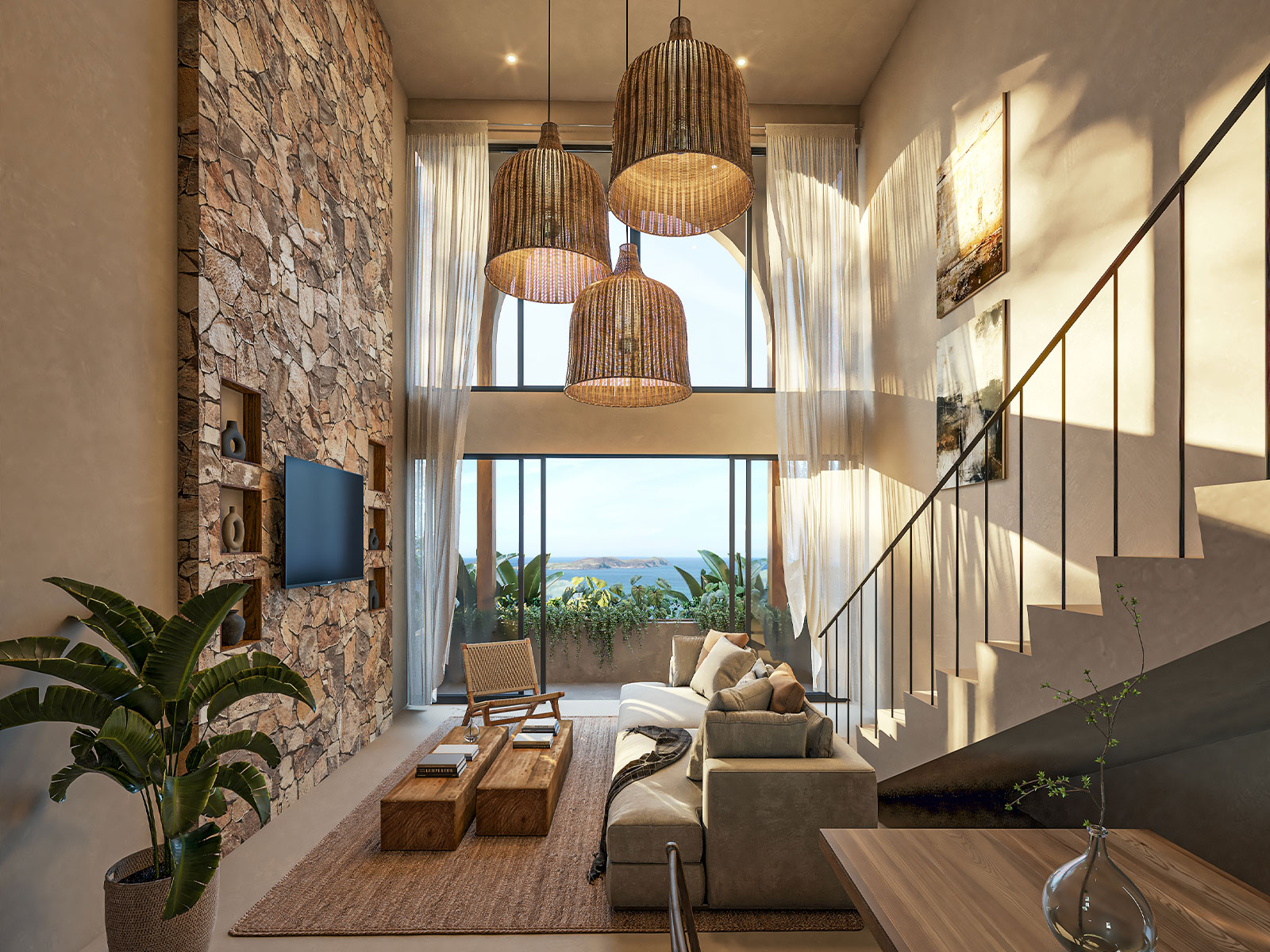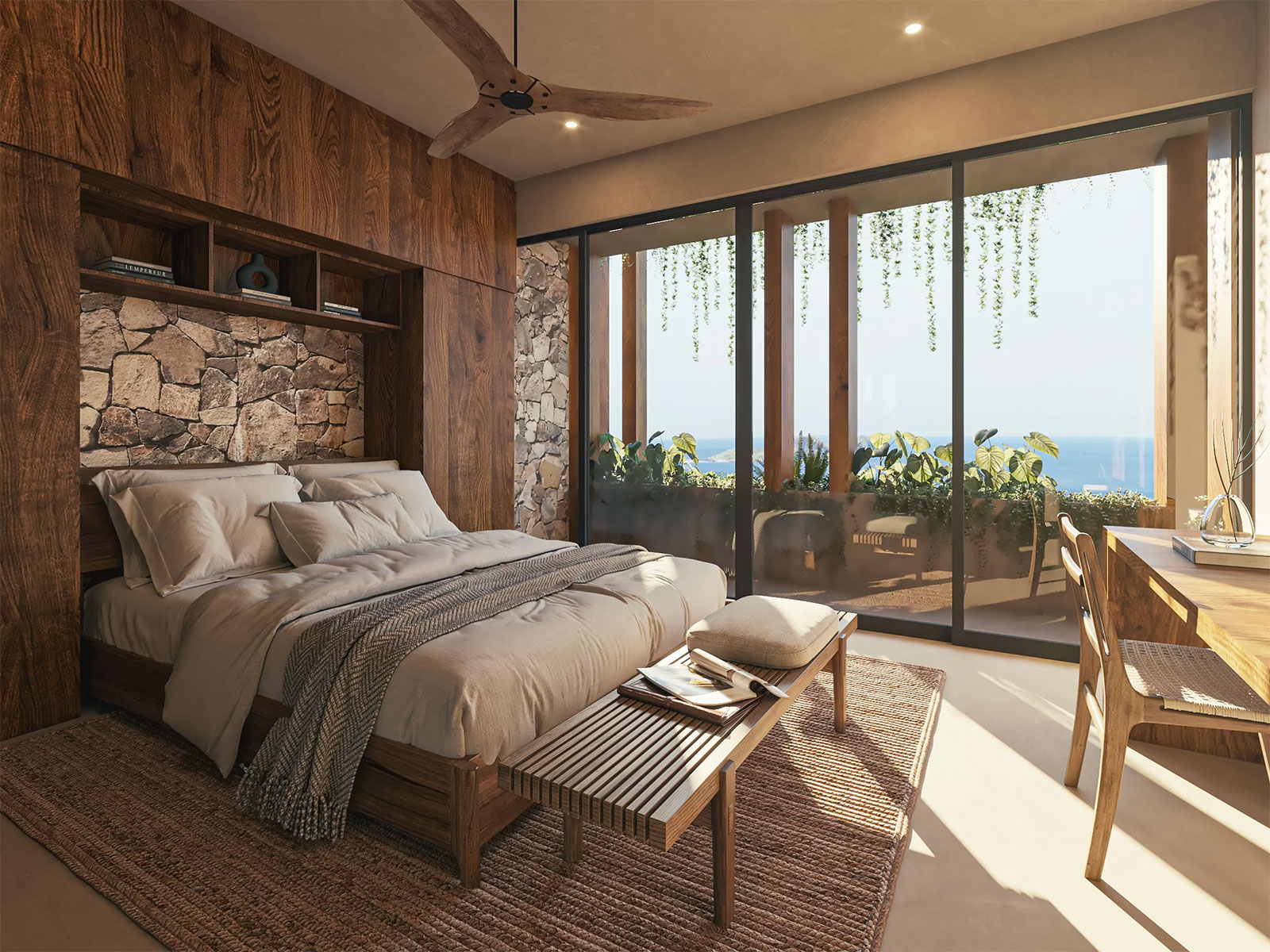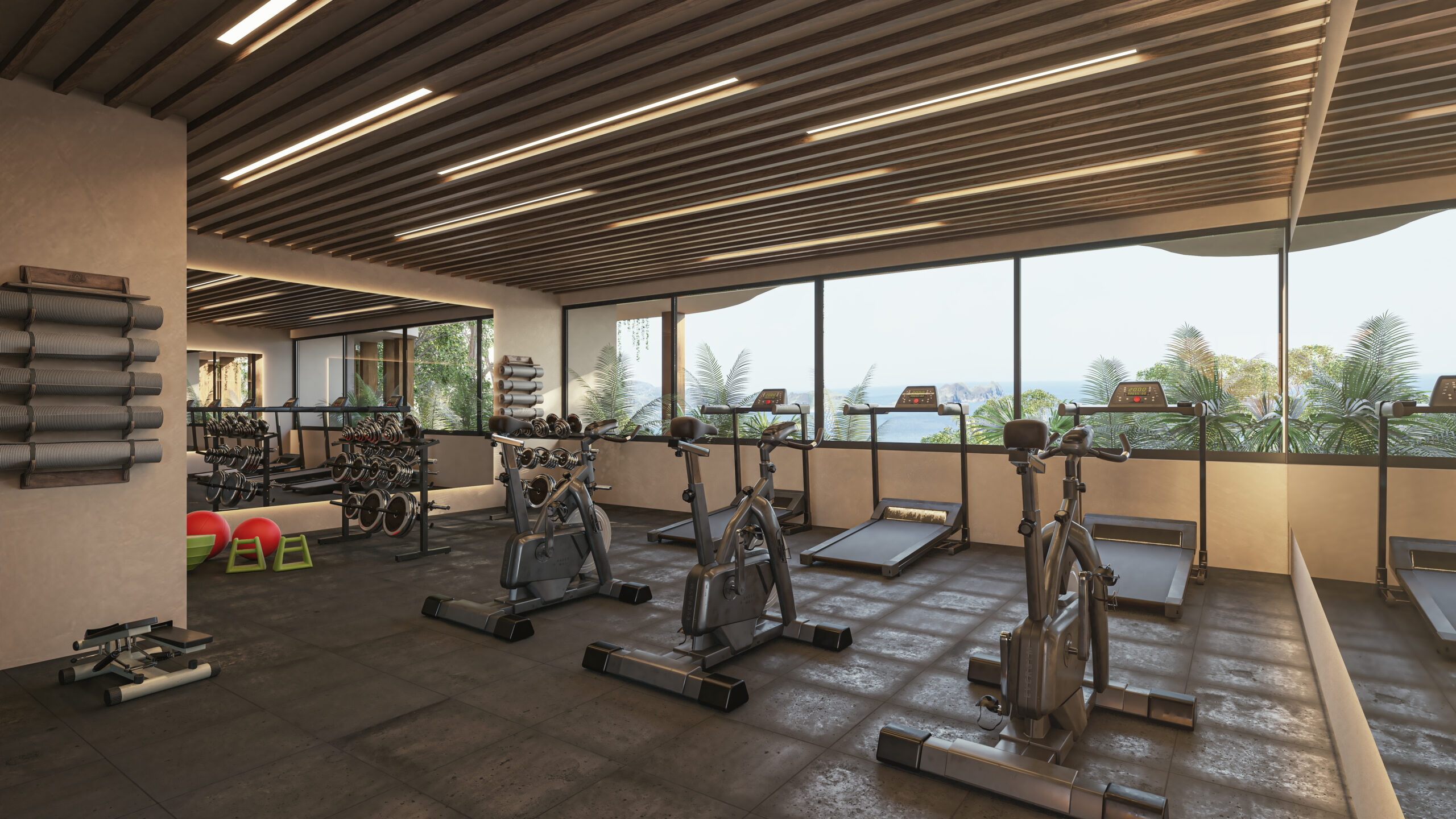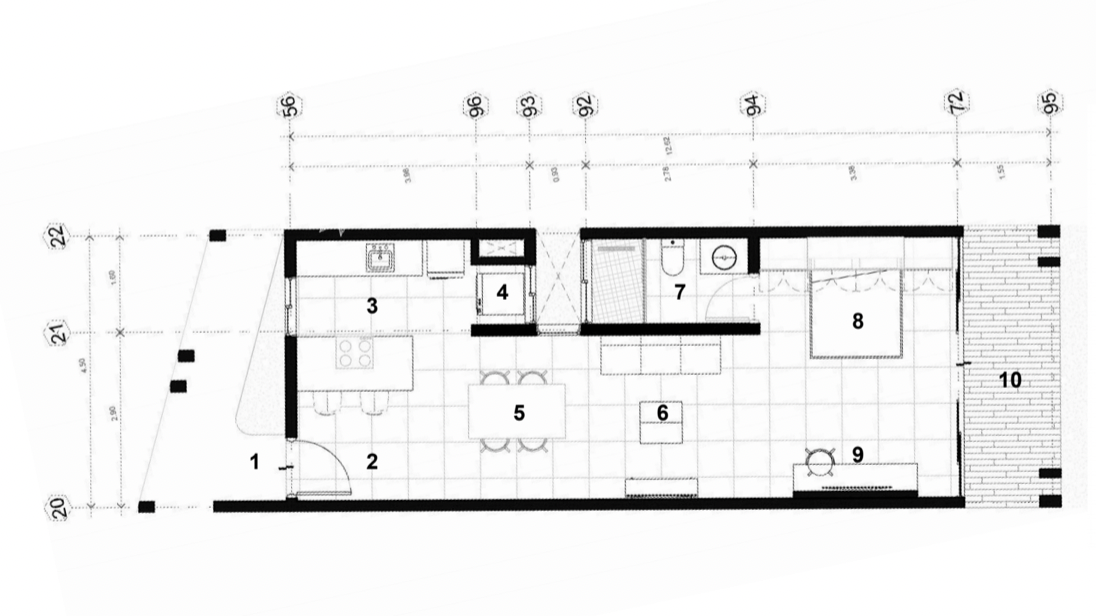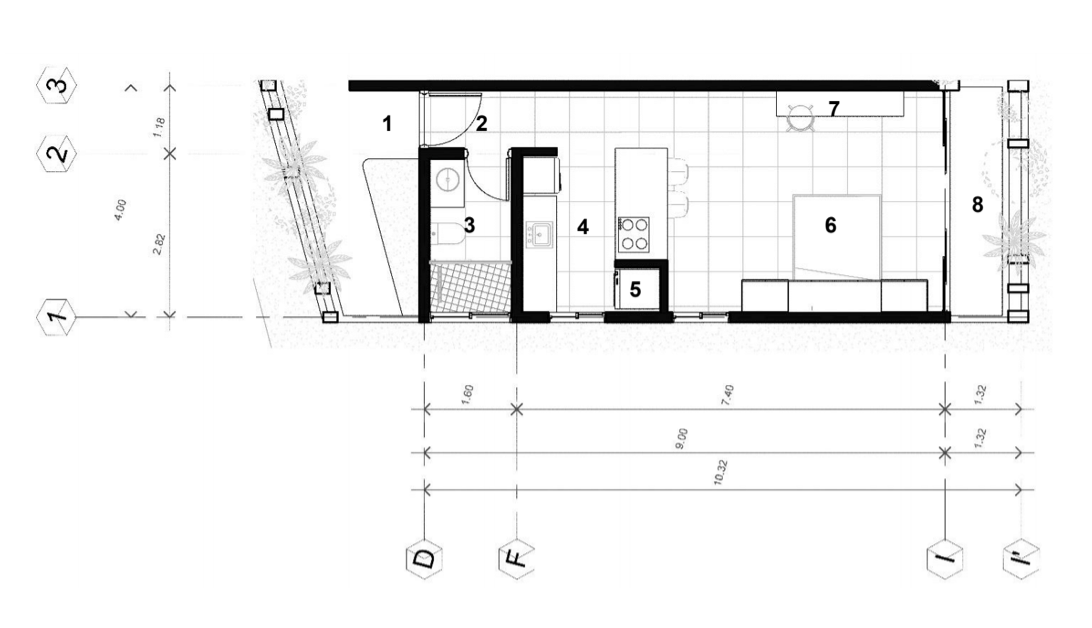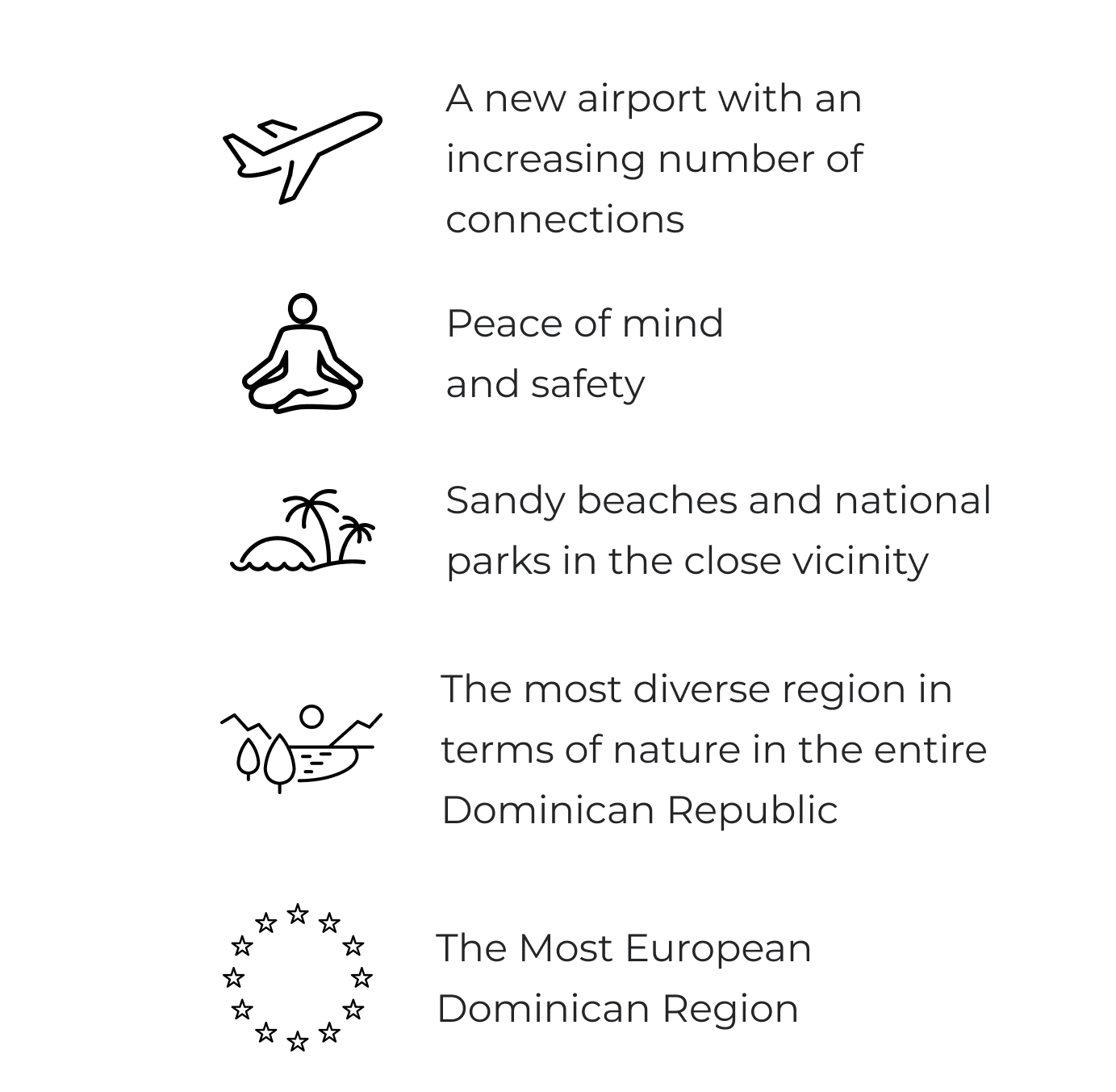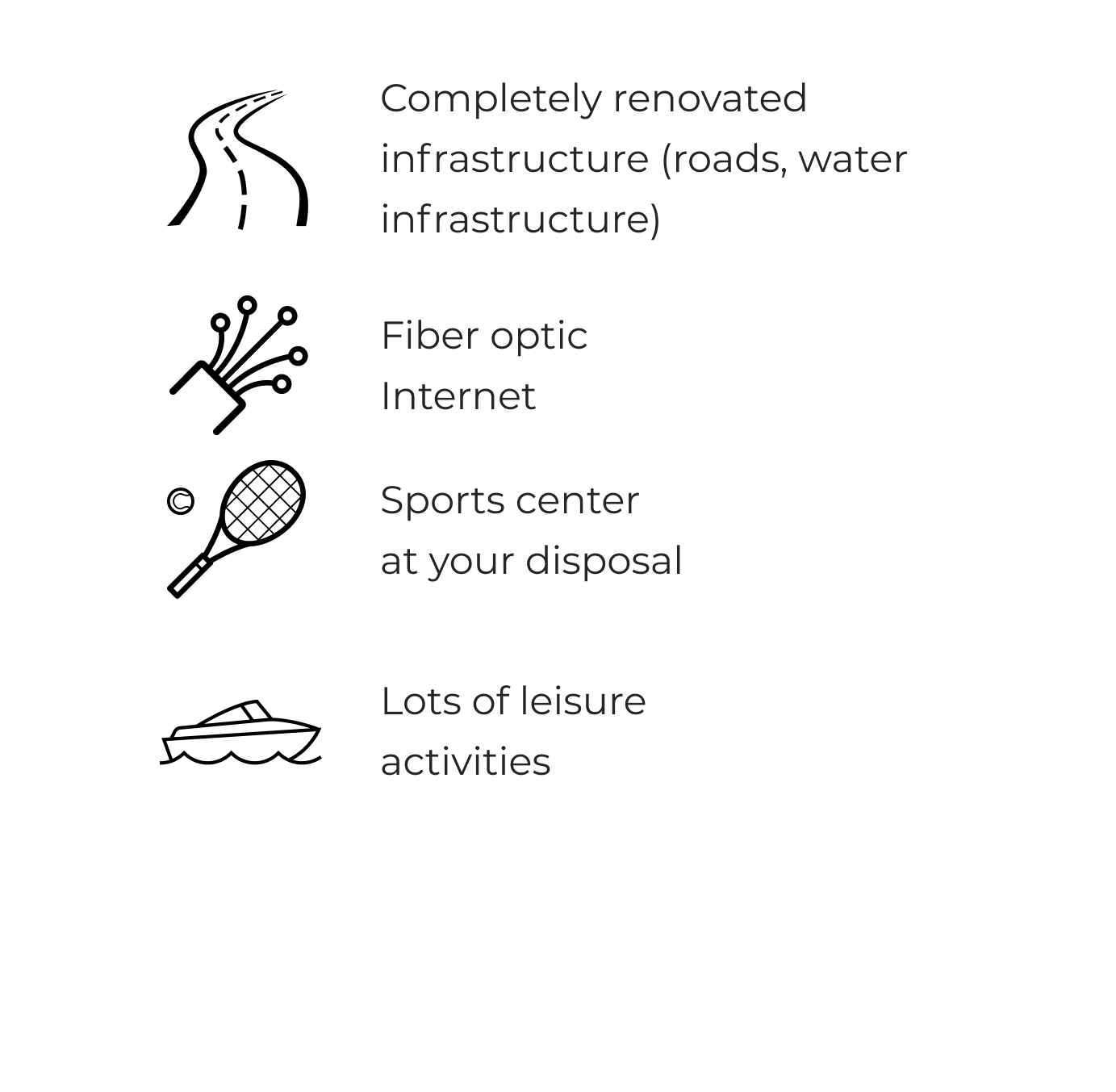 On one hand, it has enough to take a deep breath and enjoy the richness of nature: natural beaches, spectacular coastline, serpentines of scenic routes and exotic nature.
On the other hand, Samana is like a European city in a tropical paradise, with intense nightlife, extensive infrastructure and high-quality medical care that allows you to feel safe.
Its inhabitants create a unique atmosphere with their hospitality, traditions, culture and art.
Samana has everything that allows you to fulfill your dreams of living a blissful life.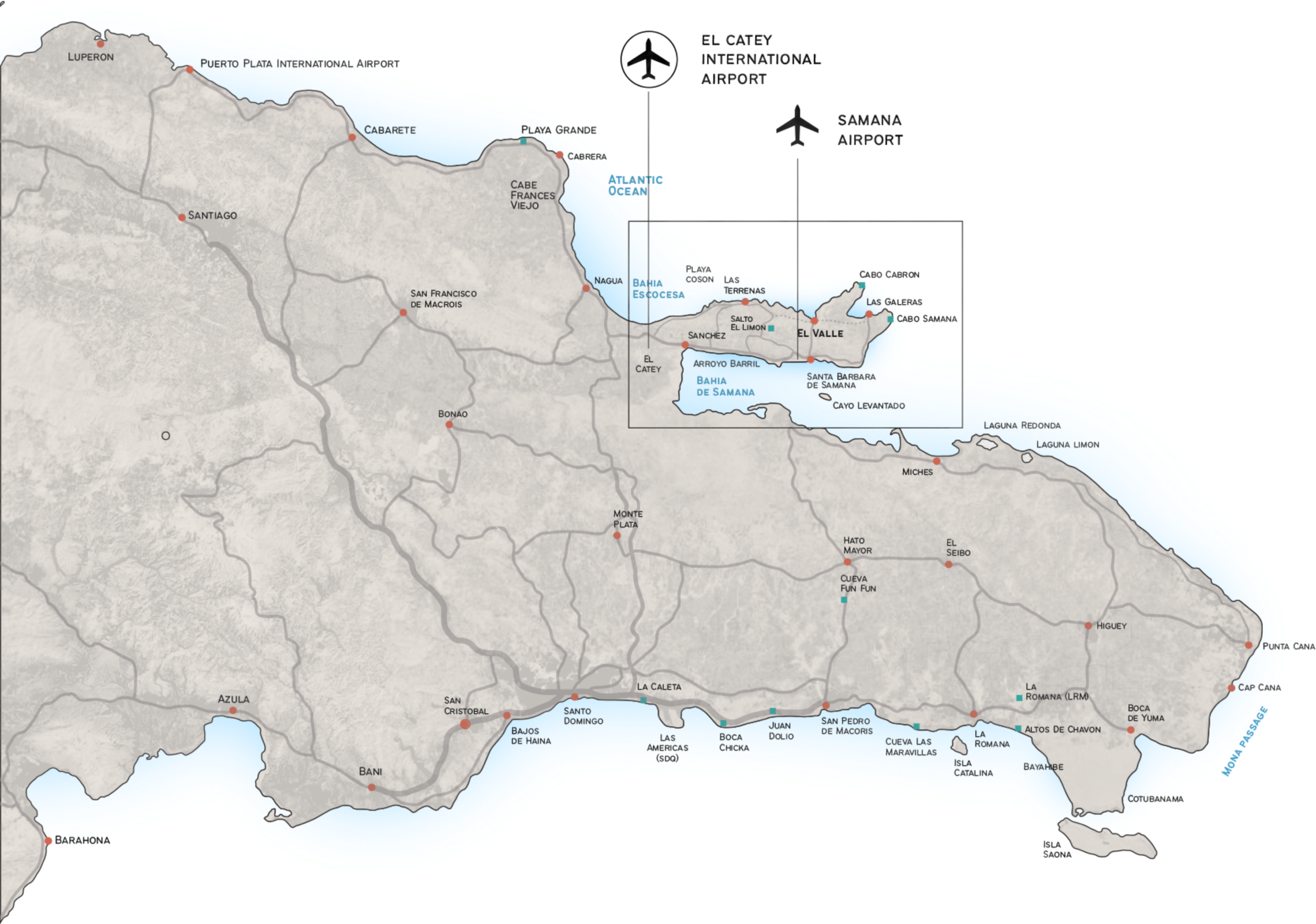 Why the Dominican Republic?


Marek Zmysłowski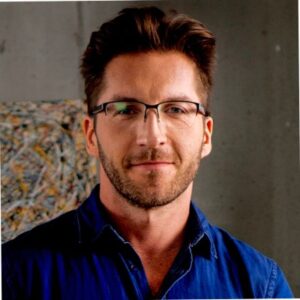 Sales & Operations
Co-Founder of Jumia Travel (NYSE: JMIA), HotelOnline.co, Sunroof.se. Former Executive at Rocket Internet, RTB House, Glovo, OLX.
Shannon Robertson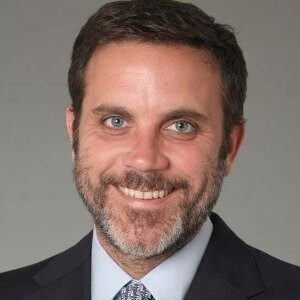 Strategy / Investor
Managing Director of JLL LATAM for the last 22 years, responsible for the delivery of JLL's transactional, project management, consultancy and advisory services.
Tomas Avogadro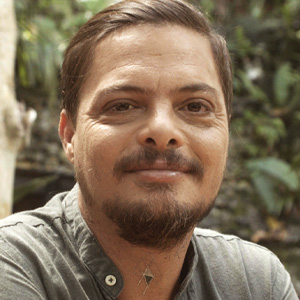 Acquisitions
Entrepreneur, founder of DeMaria (precursor of Samana Group). Living in Samana since 2006, personally managing the land acquisition and property development of the Group.
Freddy Arturo Ginebra Robiou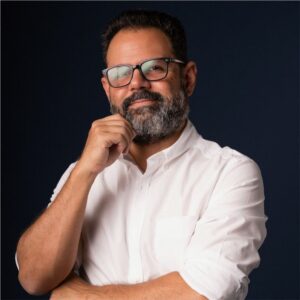 Advisor, Expert in Business and Marketing in the DR
Strategist and Creative Director at Cumbre Saatchi & Saatchi, organizer of TEDxSantoDomingo, professor at UNIBE's School of Advertising and Communication, selected as one of the 35 most influential professors.
Federico Jose Alvarez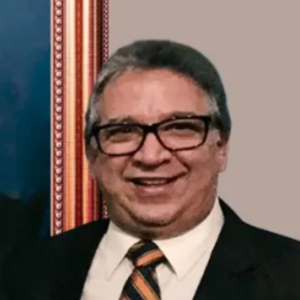 Advisor, Expert in Real Estate Law
Member of the American Bar Association, Managing Partner of one of the oldest law offices in the Dominican Republic, established in 1915 by his grandfather.
Bruce Prins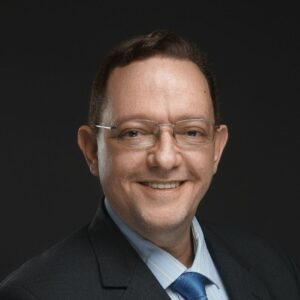 Advisor, International Hospitality Expert
The majority of his 30 years experience, Bruce has been working within the hospitality industry and in hotel chains like Accor or MP Hotels. Member of MENSA, author of the book "Insights and Tips for Owning or Managing a Hotel".
Radosław Cielicki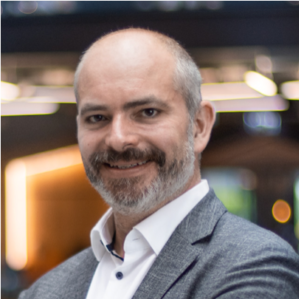 Advisor, Finance Management and Operations
20 years experience as a CFO, with successful entrepreneurial track record. Radoslaw built and sold his accounting firm to a leading Polish bank. Crazy about conscious decision making.
Kuba Karliński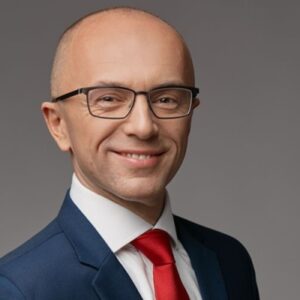 Advisor, Real Estate Development
Managing Partner at Magmillon, Polish investment group specializing in high growth of non-speculative Real Estate projects. Author of the best selling book "Let's Make Money on Property Investment".
Mateusz Sabak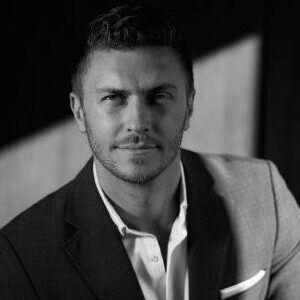 Partner, Expert in Real Estate Management
Co-founder and CEO at RentPlanet, Poland's leading STR operator. Formerly IR Manager at MCI Capital, Poland's top PE Fund, entrepreneur and the prop-tech enthusiast.
Victor Esteve Cavaller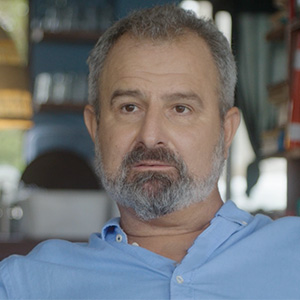 Advisor, Expert in Hospitality in the DR
Owner of Hacienda Cocuyo, one of best-rated hotels in the Samana Peninsula, owner of Cocuyo Residences Real Estate Project.
Enrique Arce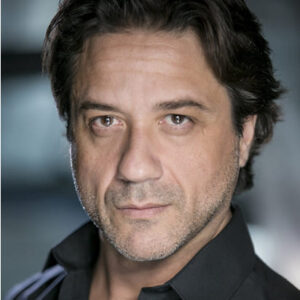 Partner, Communications Advisor
International television personality, actor, director, writer, entrepreneur. Best known for his performance as Arturo Román in Money Heist, and for his countless roles in both television and movie productions. He graduated from the American Academy of Dramatic Arts and today has a numerous projects in production.
Borys Szyc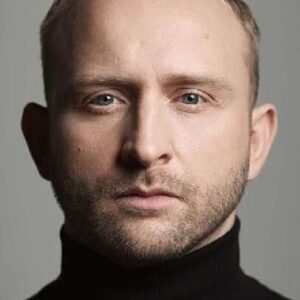 Partner, Communications Advisor
Film and theatre actor, singer, voiceover. He started his adventure with acting as a 9-year old. Currently also a successful entrepreneur and founder of TheMuba - an innovative project bringing theatre to the Internet.